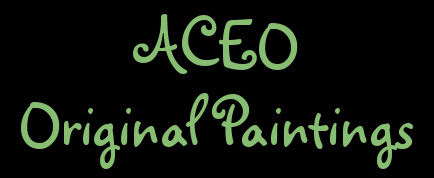 "ORIGINAL ACEO PAINTINGS"
---
ACEO Home| Originals| Dogs| Horses Boats| Raccoons| Bunnies| Deer/Fawns| Birds| Cats| Landscapes
Remember always "FREE" Domestic Shipping!
We are proudly offering these unique and very collectible, original hand drawn and painted ACEO paintings. Size is standard ACEO "3.5 x "2.5. Painted with the highest quality Oils and on the finest quality Canvas Paper or Masonite. The result is a beautiful painting with vibriant colors and a high quality rich feel. The photos never do our paintings justice and are much more rich and vibrant in person.

Your Collectable painting will arrive signed by the artist, Kelley Patterson or Cheryl Mason plus a Certificate of Authenticity is included.

ARTIST: Kelley Patterson - Kelley tends to be drawn to subject matter that "shows it's character" Preferring the well worn penny to the shiny new one, he enjoys the process of thinking about the "life" of his subject and then capturing that in his paintings.
A lifelong listed fine artist and Professional Illustrator. His work hangs in private and corporate collections here in the U.S. as well as worldwide and can be seen in several museums.

ARTIST: Cheryl Mason - I am a self taught artist who has always had a passion for creativity. For me, the arts have always been a form of emotional expression. I have taken many classes over the years and of course Kelley has pretty much taught me everything I know about realism, but for me the painting process has always been about contemplating and expressing thought and feeling. I hope that it shows in my work.

ACEO paintings are 3 1/2" by 2 1/2" and larger than shown!


"REST ASHORE"
by
Kelley Patterson
$34.99
Painted on Masonite
Medium: Oils


"Barn Owl"
by
Cheryl Mason
$34.99
Painted on Canvas Paper
Mounted to Bristol Board
Medium: Oils
"SOLD"


"Out of Darkness"
by
Kelley Patterson
$34.99
Painted on Masonite
Medium: Oils
"SOLD"


"Sideways Glance"
by
Kelley Patterson
$34.99
Painted on 190lb watercolor paper
Medium: Acrylic and Gouache


Now you can check out our store on "EBAY" all are original paintings,so take advantage of the specials.
"Good luck Bidding!"


Home| ACEO Prints Still Life| Landscapes| Feathers| Artists| Links| Contact Us
Search Engine Optimization and SEO Tools